Dedicated elf
Administrator
Generous elf
Joined

Jun 20, 2009
Messages

1,606
Location
To be fair, this data is taken from two orders placed this year and not from earlier years.
Both sets are two 50 count strings solder joined in the middle with 140mm space to form 100 cnt strings
Set 1 - 18AWG 2818 bullet pixels
Set 2 - 20AWG 2811 bullet pixels
As the positive and negative wiring a a straight connection past each pixel you can measure the loop resistance by shorting out the far end.
The lead resistance was removed from the multimeter reading by using relative readings.
Resistance calculations are based on the data from this site:
https://www.omnicalculator.com/physics/wire-resistance
Pixel WG
18
20
Distance Used
This is the loop length of a 100 pixels at 4" spacing
20M
20M
Calculated Res - Alu
1.985
3.214
Calculated Res - Copper
1.281
2.074
Measured Resistance
1.995
1.91
Now like me you have done a double take on the measured reading and said wtf, how can 20awg be better than 18awg. Seems one is copper and the other is aluminium wires.
So not only is your resistance and hence voltage drop dependent on the wire gauge it is also dependent on the wire TYPE.
the ugly truth may well be that the 18awg pixels we buy at a small premium may be no better than a quality 20awg when considering voltage drop.
We should all ask what type of wire is being used as well as the wire size
STOP using wire gauge .... ASK for the wire strands and individual wire size
Examples and some photos.
Pixel 18 gauge = 34 strands of 0.10mm wire
Pixel 20 gauge = 21 strands of 0.10 wire
7.5A Fig8 in aus = 24 x 0.20
10A Fig8 - 32 x 020
so some photos, all taken under the microscope.
Pixel 18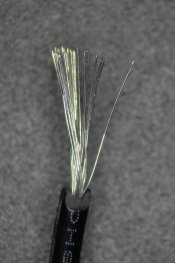 Pixel 20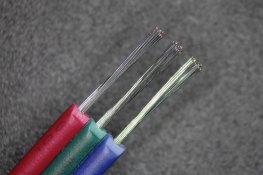 Pixel 20 versus Pixel 18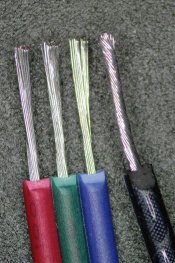 Pixel 18 v Pixel 20 at a strand level, they are the same strand size just different counts (and types it seems)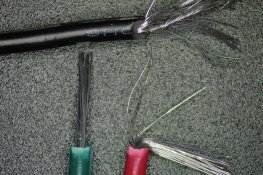 The black is an artifact only they are all nice shiny silver
An here is Pixel 18 compared to some 24x020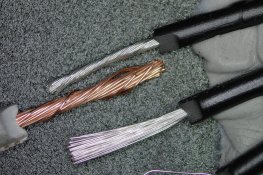 Cheers
Phil