G'day Gurus,
I bought an Rpi-P10 hat from Hanson a while back last year and have now dusted it off and attached it to a RPi-3B+running FPP4.6. I have 6x P10 panels but I can't seem to get anything on even just one panel to display more than just 1x row of 32x pixels of blue or white light.
I started out with all 6x panels connected together, then decided to go back to basics and try just one panel with different settings, a number of different cables, and even other panels to rule out anything there. Voltages are ok
Next I watched a Canispator Christmas video where he used a BBB and made it look like plug and play! RRrrr! I tried some of his settings but related to the RPi of course with no joy. Next I tried to configure it from xLights and upload the settings from there, again no joy!
I can see on the FPP status page it is receiving packets of data from xLights with no issues, but no lights.
Attached are the screenshots I've taken of settings and the panel themselves. Note in the photo "P10 Panels Front" the led row which is lit is connected to output 2 on the Rpi-P10 which has not been configured to output in FPP.
I've tried all the different "Wiring Pinout" options each time saving, restarting FPP and rebooting the RPi but now I'm all out of ideas.
I'm sure there's some simple setting somewhere that I've missed because I can't see the trees through the forest. There's also this page on the forum (
https://auschristmaslighting.com/wiki/Raspberry-Pi
) that if we get mine going I'll see if we can get it finished. For now I'll try step 2 from this page but I'll be sure to avoid the "aka"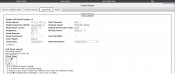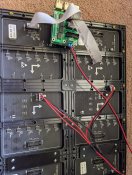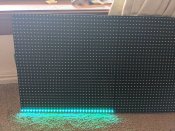 Thanks guys for any help you can throw my way.
Cheers Bazzy