Joined

Aug 3, 2011
Messages

277
Location
So after 12 days since it cleared customs, my order from Ray Wu finally arrived on Thursday. Thank you Aus Post. In this order is a bunch of 2 and 4 string waterproof connectors and my initial scattering of 2801 pixel strings
2ea of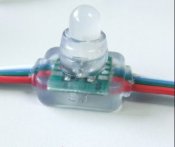 awesome, everything as I ordered.
Now my question is in several parts:
On the 12mm round pixels I can make out the +5V, Data, Clock and Ground details, but I can not tell which is the input side. So how do I tell which side is which?
On the square based pixels, I can clearly see the direction of current low, how do I know which cable is which?
The colours are the same for all the strings, so far so good. I can use a multi meter to tell me which is the ground cable, therefore identifying the power in cable, easy.
WHat happens if I feed the power and data the wrong way on the 12mm lights and what damage will I do I confuse the clock and data cable on square based lights?
Is there a simple check I can make to determine correct input/output alignment and which cable is which, or do I need to ask The Man himself?
Please help
Doug