Hi All, Just saw these "G-Spheres" and I think they look awesome!!!
However, as they are produced in the USA and I'm in Australia, the shipping costs are, at least for the Small and Medium Spheres, more than the Spheres cost them selves, which really makes it unaffordable for me to import them. :-(
So, I was just thinking that maybe there are some other "Auschristmaslighting" Members who live in Australia, who might also be interested in getting some of these? If so, has anyone looked into doing a Bulk Buy of these. I have participated in Bulk Buys in the past, but have no idea of how they are arranged.
Would anyone be interested in taking this on?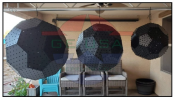 This is a 1052 node G-Sphere designed for 12mm pixels 32 panels 20 panels - 37 nodes 12 panels - 26 nodes Small measures approx 21 inches Medium measures approx 30 inches Large measure approx 36 inches Material is 6mm heavy duty white or black coroplast 100% Designed & Made in the USA © 2019...
gilbertengineeringusa.com