Dedicated elf
Administrator
Generous elf
Joined

Jun 20, 2009
Messages

1,606
Location
This thread will be about 2022 testing of the GS8208 based pixels and like Ryan's excellent thread some comparison numbers.
Please read all the great info in Ryan's thread for more than I will type up.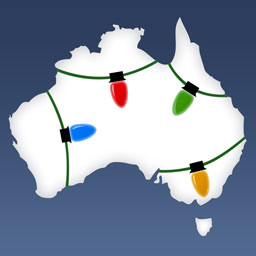 '5 volt versus 12 volt, which one do I choose?' How many times have you seen someone ask the above question? More than likely they are not sure whether to buy WS2811 5V or 12V RGB pixels. Well how about a third contender, GS8208 12V pixels? Not all 12V is the same, as it turns out! Spoiler...

auschristmaslighting.com
The thread also contains links to four other threads about these pixels.
To long don't want to read:- these should be you pixel of choice, end debate. The 5v versus 12v debate is dead with these.
So for those that haven't read the other threads yet,
what is a GS8208 Pixel
.
This is from the Datasheet: My own comments in blue.
The GS820 8 is a 3 channel constant current LED drive with redundant data transfers and internal display patterns.

Internal test patterns are absent on my strip

The range of input power is from +9V to +15 V, and voltage endurance of LED port is +12 V.

Minimum voltage will be tested

There is a built in 12bits GAMMA correction module.

This is an added feature over ws2811 and should provide smoother dimming and better colour at low levels.

PWM maximum refresh frequency is 8 kHz.

This is higher than listed for a WS2811

GS8208 provides two signal data input as redundant control, which ensures the transmission of the signal if any single chip fails.

same as ws2813 IC's that implement redundant data inputs

Current is constant regardless of colour being displayed including full white.

2811 compatible protocol support for input at least, output to be tested.
Initial review and data on 5M 12v 150 pixels strip.
Strip was ordered from two different vendors, one has arrived so far.
I ordered IP30, ie not covered strip so I could have easy access to measure voltages along the strip and to keep the price cheap
12v 30Leds/m 5m total length. Strip came with 4 pin JST connectors. quite honestly this is no different to any other led strip you will find on various sites except it has four wires in and out.
First thing was to power it up and measure the standing/Quiescent current and watch the test mode kick in.
First surprise was, no test mode kicked in - maybe there is a later chip revision that has removed it.
So standing current, this is the current when the strip is powered on doing nothing
Measured - 320mA. This seemed high but as the GS8208 has the equivalent of a 78l05 built in and will be on par with other regulated pixels.
So a look a the datasheet says each pixel is 2.1mA, we have 150 of them so 150 x 2.1 = 315mA.
Seems that we are right on spec at this point but this needs to be taken into account when you use thousands of these the same as any other 12v pixel.
Now it gets interesting:
We are all used to the current draw increasing with mixed colours and white .... these do NOT do this and this makes the difference in planning and optimisation of power.
To borrow a table from one of the other testing threads to emphasize the point.
Note 150 LED's used here on strip, actual voltage drops may be different for strings.
| Colour | Voltage In | Voltage End | Current | Average Pixel Current mA |
| --- | --- | --- | --- | --- |
| Red | 12 | 10.7 | 1.63 | 10.9 |
| Green | 12 | 10.7 | 1.63 | 10.9 |
| Blue | 12 | 10.7 | 1.63 | 10.9 |
| Purple | 12 | 10.7 | 1.63 | 10.9 |
| Cyan | 12 | 10.7 | 1.63 | 10.9 |
| Yellow | 12 | 10.7 | 1.63 | 10.9 |
| White | 12 | 10.7 | 1.63 | 10.9 |
So the spec sheets lists 18.5mA... that is a MAX number.
at 12v the spec sheet says 11mA
Seems we again on target and in agreement with the spec sheet

Why is this the giant killer and why should we adopt it.
Since I started in pixels back in 2009 the nirvana pixel would use around 10mA max per colour to save on power, power inject etc, well these use 11ma total full stop.
Power requirements are constant regardless of colour allowing better planning of power requirements and any injection.
Low current draw means longer runs before injection
more pixels per port from your controller before power
12v means less injection needed
Pixels per 350w supply jumps to 2,500 from the current guideline of 1000
Redundant data.
Cons
Hard to find as pixel nodes
Pricing is all over the place and can be up to twice the price of 2811 nodes
Ray Wu has GS8208 bullet nodes at similar pricing to 12 resistor based nodes so if that holds and supply can be improved then these really should be a no brainer.
Still to test, voltage input levels and 2811 compatibility on the output.
Now to order some nodes for more testing