Joined

Oct 5, 2010
Messages

547
Location
We bough a lot of RGB IP67 strip this year and have been looking at how to mount it. Know that many use conduit with cable ties but we want something quick to mount which protects the strip.
Tess and I have been looking for ages but last week we found a really nice clear plastic section ideal for the job. This is from Suntuf and is called endcap. It is UV protected and clear.
Length 3m
Width 30mm
Depth 10 mm
Cost $7 per length
you can see a pic here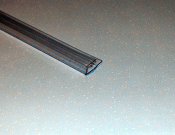 We just drilled 4mm holes each 500 mm or so and attached with 15 mm flat head screws to our facias under the spouting. Very easy to get nice and straight as you can see.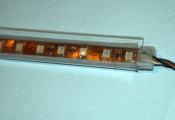 The RGB strip we slipped in after first mounting the plastic strip. You need to push it in and the profile holds it very well without placing any significant force on the strip.
You can pull the RGB strip out any time. We are hopeful that the UV protection in the end cap will also help our RGB strips.
We think we will leave the endcap up all year and just slip in the strips in November. It will be super quick. Means we can also roll our RGB strips up for storage.
Only problem we have is finding enough end cap strips. We have bought out the stock in 3 Bunnings stores but only 6-8 strips in a store.
Still expect SmartAlec will know the cheapest place to buy in Australia by Monday night!!
Be interesting to see how they last.[/attach]