Grandpa Elf
Community project designer
Generous elf
Joined

Jun 12, 2010
Messages

4,610
Location
A few months ago tuppetsdad got some sample RGB LED stars and started
this thread
. They were a 24V DC 4-wire (red, green, blue, +ve) type and could be used with an external DC controller.
A few of us discussed them and pondered the possibilities of either making a small DMX controller to fit internally, or inline with the cable. A suitable low cost solution wasn't found at the time.
I then contacted Bruce from Sunmoon in China about getting some more stars, but this time with integrated controllers. After more discussion, I settled on a 6803 (pixel type) interface and order 10 pieces. Here's what they look like: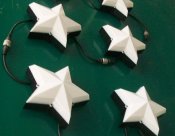 As I only received them yesterday, I am yet to try them out. I believe they use the same LEDs and PCB as the ones tuppetsdad brought in.
I have cracked one open (not easy) and it contains a separate controller PCB with an LPD6803 IC and associated circuitry.