Annoying Elf
Generous elf
Joined

Dec 30, 2018
Messages

865
Location
My seed pixel mega tree - Smaller to store and turned out cheaper to make.
Can't be bothered to read? Here's the video:
View: https://www.youtube.com/watch?v=eGL6h4FvXdo
The inspiration
In 2017 I created a mega tree with 'seed lights' purchased from eBay. I choose these lights because the entire LED is covered in epoxy from the reviews of
Youtube/BigCliveDotCom
. These were much better waterproofed than 5mm standard string lights commonly found at Bunnings.
The seed lights of this tree are still working!

Starting pixel lights in 2019: I found out how other people make their mega tree's with mounting strip and bullet/square pixel nodes.
This seemed expensive and the storage of a large tree would be more than my entire display's storage at the time.
In comparison to my dumb seed light tree with all the lights stored in an ice cream container, that's very small for storage!!
Where did I find out about these pixel ones?:
Courtesy of the Youtube channel
IntermitTech
with his video "
QuinLED: Ultimate Addressable Christmas Tree LEDs
"
These were enamel copper wire seed lights. I ordered some from BTF and they worked alright. But not very reliable for outdoor use, I have shown these in my
Behind the scenes 2021
video.
In 2022 GFLAI self promoted their insulated wire seed pixels:
I had to try making a mega tree with these!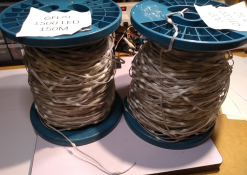 These little lights are fairly robust. It takes a lot of force to break them apart.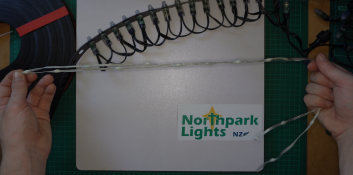 Following posts is how my tree is built.
Last edited: